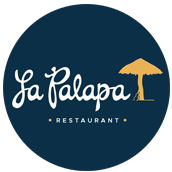 LA PALAPA
TROPICAL MEXICAN CUISINE
The cuisine of La Palapa is greatly influence by fresh and delicious local ingredients and abundant choices within the region. Located at Playa Los Muertos, the beach and ocean life is something integral to La Palapa's identity. Tropical Mexican Cuisine combines Mexican with Asian and French elements to bring you a fresh, local culinary experience you will not soon forget.

La Palapa was founded in 1959 as the first beach restaurant in Puerto Vallarta. For over 60 years, La Palapa has become a destination for those who enjoy spending a day at the Beach Club or enjoying a candlelit romantic dinner on the sand.
PLAN YOUR EVENT
La Palapa is available for large or small groups who are celebrating special events, rehearsal dinners or company parties and corporate functions. We have special fixed price menus, or design your own with the help of our Customer Service team. We work with our chefs to create a never-to-be-forgotten breakfast, lunch or dinner for your special event.

Whether it's specially ordered tropical flowers, live traditional music or tiki torches surrounding your table, we are up to the task. Would you like to have chairs on the beach so your group can enjoy a beautiful sunset? All you have to do is ask! The same service and quality gourmet cuisine which you can expect on a daily basis at La Palapa is offered to our groups, and the details which make a party special will not be overlooked!
Los Muertos Beach Pulpito 105-3 Col. Emiliano Zapata Puerto Vallarta

Daily: 8:30am - 11:30pm



Los Muertos Beach Pulpito 105-3 Col. Emiliano Zapata Puerto Vallarta

Daily: 8:30am - 11:30pm



Live music - La Palapa offers live music every night from 8-11pm

Flexible seating - on the beach with your toes in the sand and under the stars, or in our main dining room decorated in tropical elegance. View our room capacities and floor plans.

Award-winning service - our professional team has many years of experience hosting large groups, making sure your guests are comfortable, happy and enjoying the La Palapa experience.

Personalized group menus - get in touch with us and our team can design a personalized menu for your event

Extensive wine list - our custom built wine cellar houses over 150 labels from 7 countries